LED RECHARGEABLE TACTICAL FLASHLIGHT WITH COB SIDE LIGHT 90000 HIGH LUMENS
90000 Lumen HIGH POWER LED FLASHLIGHT
The tactical flashlight is high in lumen, with a built-in XHP90 ultra-bright LED and a maximum output of up to 90000 lumens, 8000K the sunlight illuminates bright light about the length of two football pitches and reaches nearly 2,000 feet.
Rechargeable Flashlight,Long-lasting, power bank
Rechargeable flashlight high lumen, 10000 m-a-h high capacity battery, long service life, this LED rechargeable flashlight can run for up to 72 hours. USB input ports allow you to quickly recharge your flashlight, and USB output ports help this LED flashlight recharge your phone, camera, etc. as an emergency power source.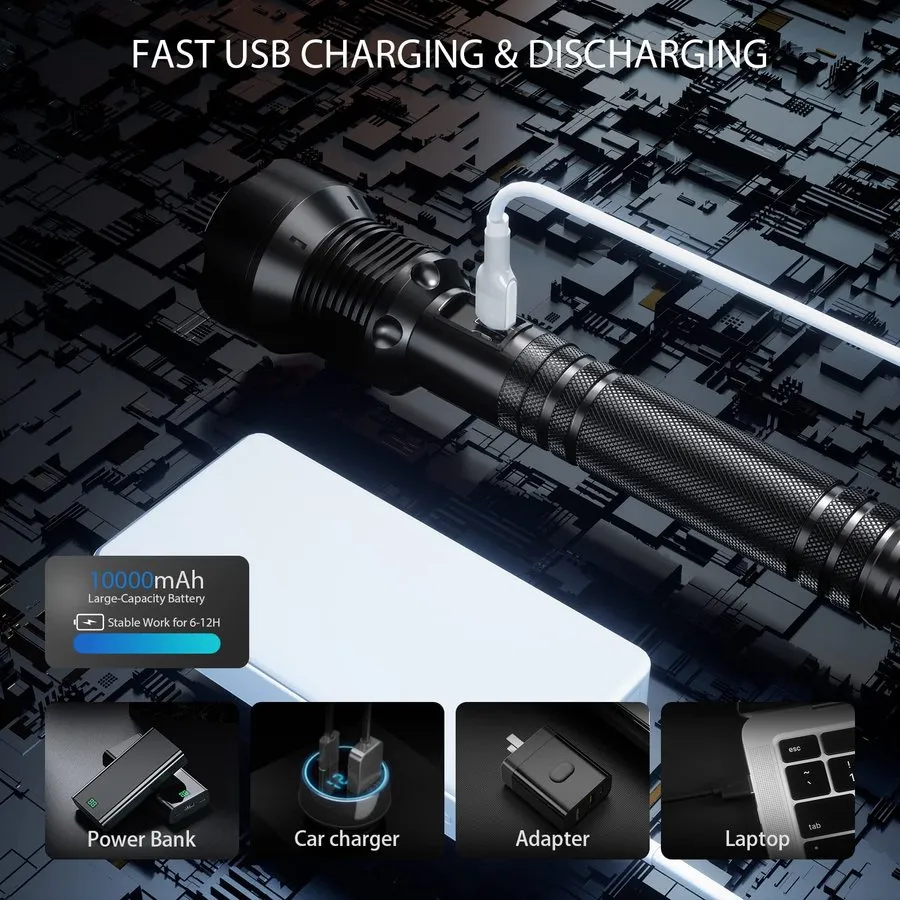 7 Modes & Adjustable Foucs
Upgrade P90 high lumen LED flashlight, the brightest flashlight available in 7 modes: High/Medium/SOS/High COB/Medium COB/Red Flashlight COB (Quick Double Click Button On COB Mode), combined with scaling, makes this LED tactical flashlight more tactical, with spotlights for long-range lighting and floodlights for large-area lighting. This 90,000 lumen tactical flashlight is ideal for emergency, camping, inspection, police flashlight and daily use.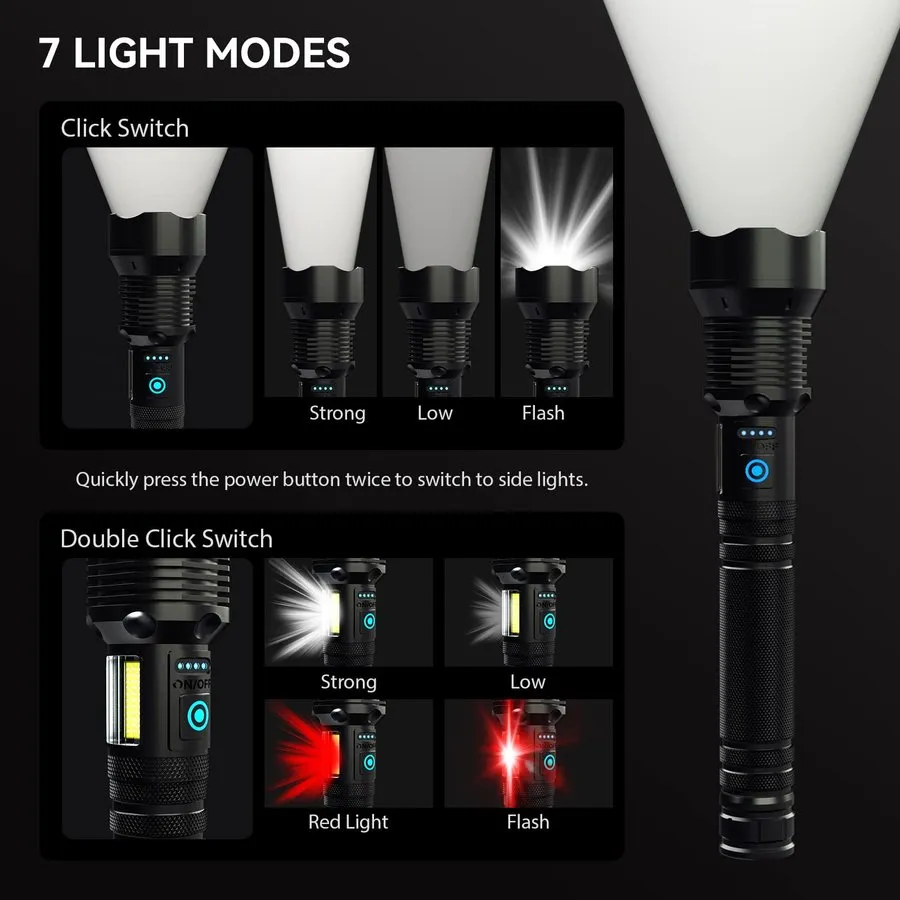 Better Quality IPX6 Water Resistant
Durable, waterproof, seismic, high quality aluminum alloy protection flashlight is not rusty, scratch, corrosion, can be used in all kinds of extreme weather. But it cannot be immersed in water.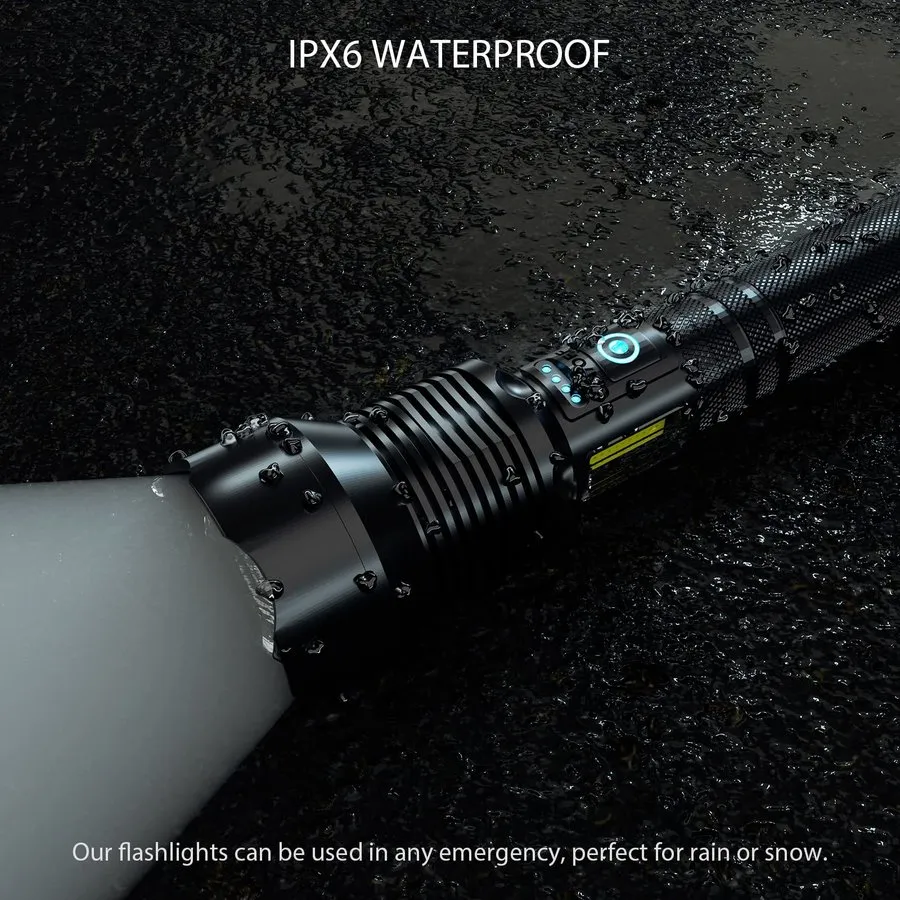 Durable, Waterproof, Practical
This heavy flashlight is made of aviation-grade aluminum alloy. It is non-slip, durable, IPX6 waterproof and convenient for use in extreme weather. A one-click off function means that a long press switch for 2 seconds can turn the flashlight off directly in any mode. This rechargeable flashlight has a light display that allows you to see the remaining power at a glance. Remind you to charge the flashlight in time for use as a camping flashlight or EDC flashlight.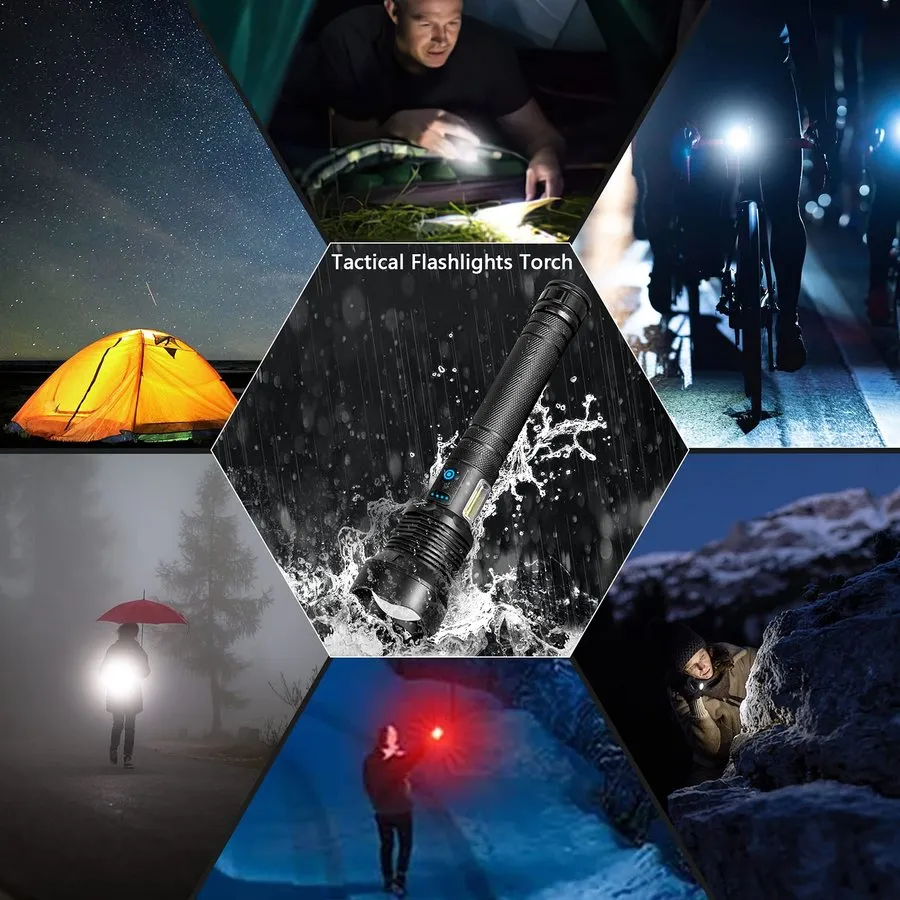 Why choose WolfTorch LED Flashlights?
Amazing Illumination: Professional LED flashlights with 90000 lumens are durable.
7 Lighting Modes & Zoomable: (High/medium/Sos/high COB/medium COB/red COB/RED flashlight COB). Meet your requirements by stretching the body of this compact flashlight to easily adjust the focal length. A flash and SOS function is a life-saving straw when a roadside repair or distress signal is issued.
How to Turn on COB Sidelight : Quickly double-click the button to turn the COB light on. (Intervals less than 0.5S)
ONE KEY TURN OFF:The flashlight can be turned off in any mode without the need to cycle all modes.
USB Rechargeable Flashlight: A rechargeable flashlight contains a USB data cable that you can charge with any USB device, such as a mobile power supply, on-board charger, computer, etc.
Flashlight power bank :USB input ports allow you to quickly recharge your flashlight, USB output ports help this LED flashlight as a mobile power source to recharge your phone, camera, etc.
Durable and durable flashlights can run for 10-12 hours when fully charged, and USB output and input interfaces mean the flashlights can be recharged or used as mobile power to recharge your phone, camera, etc.
IPX6 Water Resistant: IPX6 waterproof, rain or snow can use this waterproof flashlight, is a good choice for you to choose the camping flashlight.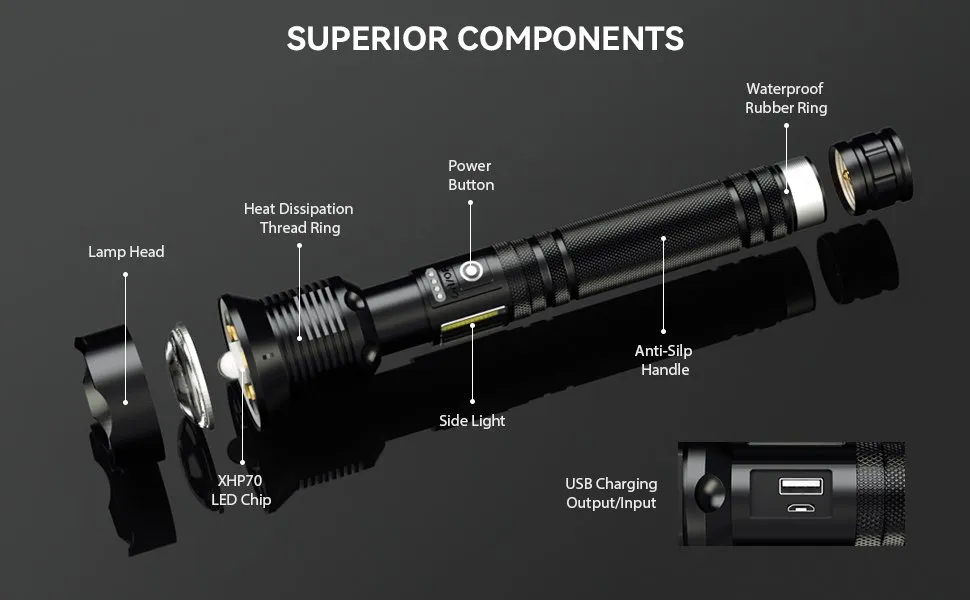 Switch (On/Off and mode change)
Main light: 3 kinds of modes (high / medium / strobe)
Side lighting: 4 modes (high/low/red/red strobe), quick double press the switch to turn on the side lighting.
First click on the power button (high brightness), second click to change to medium brightness, next click to change the mode to strobe, and fourth click to turn off the flashlight.
A quick double click in any mode will switch to COB lighting. Then click to toggle COB white high light - COB white medium light - COB red light - COB red strobe.
Press and hold for 3 seconds to turn it on and off.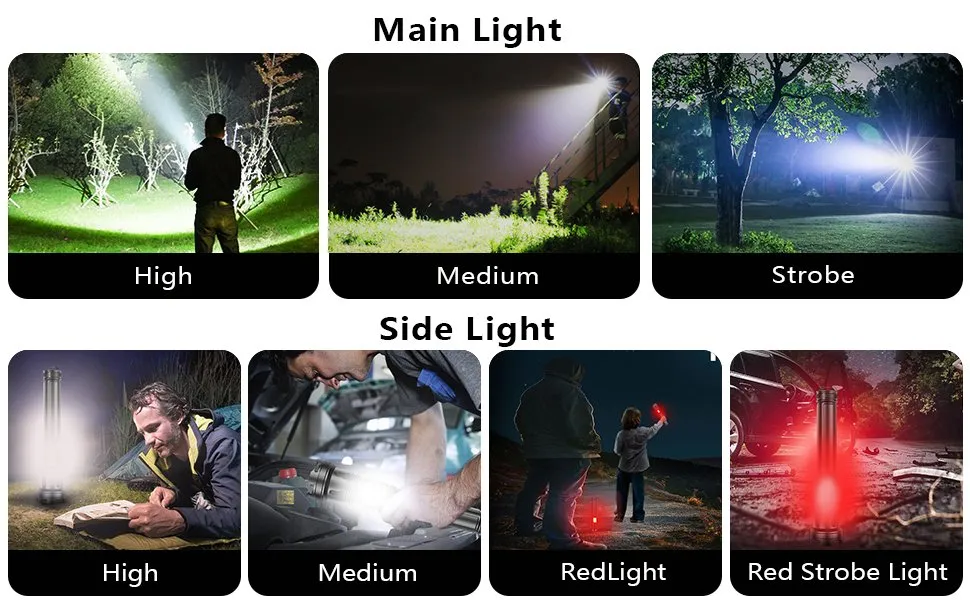 Rechargeable Tactical LED Flashlights Note:
When inserting ΒATTERY, please make the "+" facing inward and the "-" facing outward.
Before charging, please make sure ΒATTERY is installed in the correct direction, otherwise it will damage the flashlight.
Please remove the ΒATTERY when not in use for a long time.
To prevent future problems of not being able to charge, please do not run out of power before charging.
Please do not mix old and new batteries, different batteries and brands of batteries.
Keep the inside of the lampshade clean, do not wipe it with your hands and hard objects, use cotton swabs and professional tools to wipe fingerprints from the lens.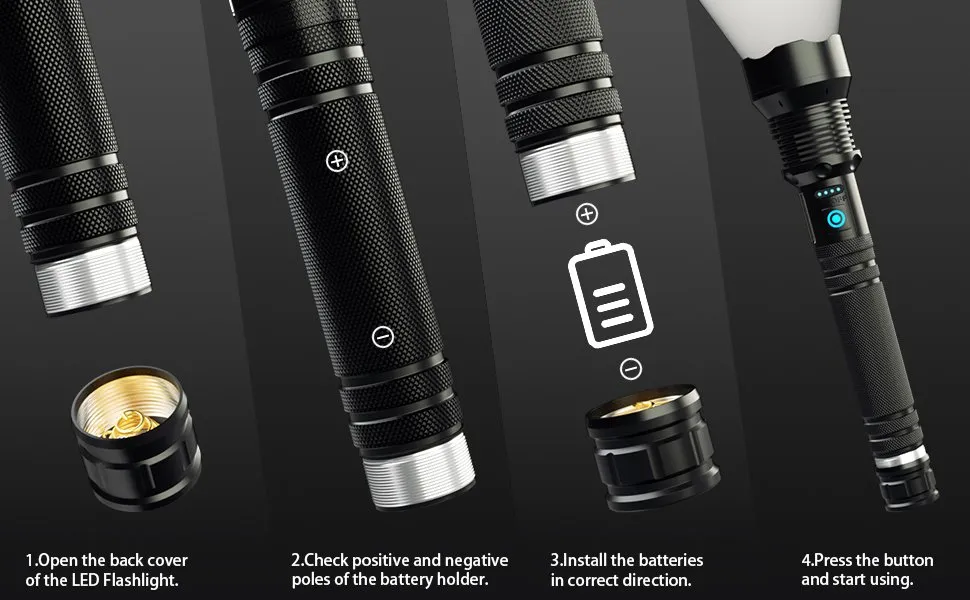 Specifications:
Name. High lumen LED flashlight
LED chip: XHP90
Brightness: 90,000 lumens
Beam distance: 1500m
Power capacity: 10000mAh
Waterproof. IPX6
Main lighting mode. High / Medium / Strobe
COB side lighting mode. High/low/red/red strobe
Material. Material: aviation aluminum alloy
Size: 10.2 inches * 2.4 inches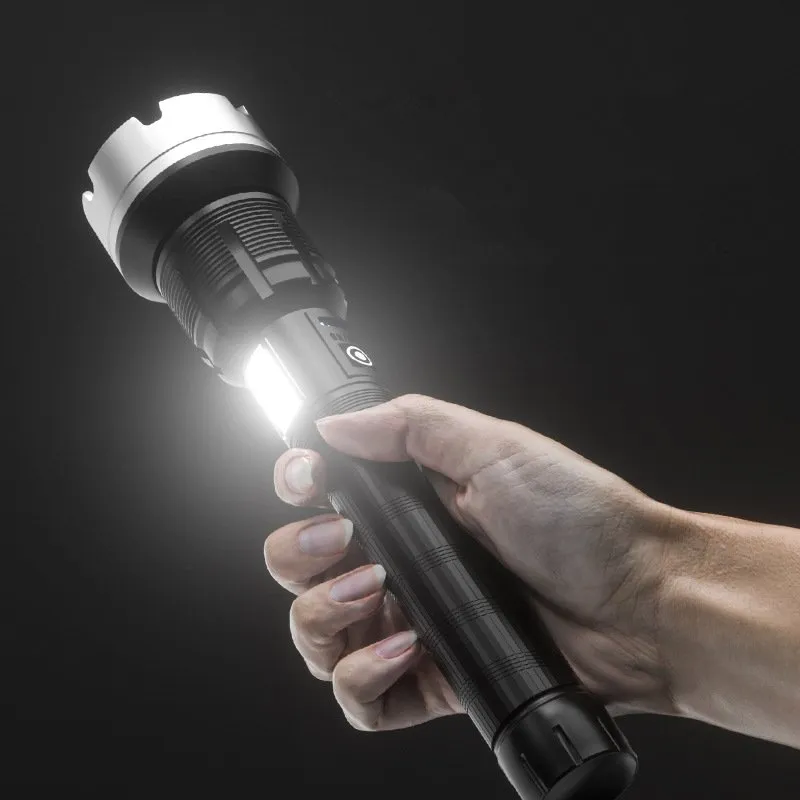 PACKAGE INCLUDES
1 x XHP90 Tactical Flashlight
2 x 3.7V single cell batteries
1 x USB charging cable
1 x User manual
1 x Hand Pull Cord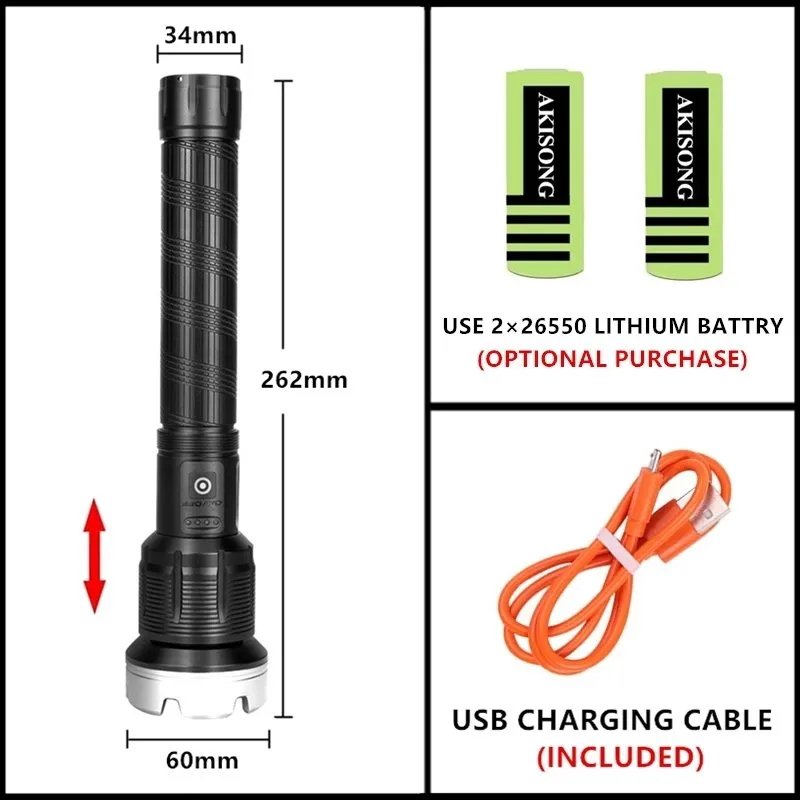 AVAILABLE ONLINE ONLY. WE SHIP WORLDWIDE!